The number of crossbow hunters is rising every day due to the easy availability of low-priced crossbows and an increased number of states that now allow crossbow hunting. If you're one of them, you need to know your hunting gear well to make a clean, humane kill every time you step into the wild.
Crossbow bolts are the most essential crossbow accessory that could make a real difference. But how do you make your choice? This is where RangerExpert comes in.
Our archery devotees and toxophilites spent a lot of time hunting for the best crossbow bolts from a myriad of choices. Go through our review and increase your chances of success no matter if you use your crossbow for target shooting or serious hunting!
A Quick View of Our Favorites Crossbow Bolts
| Pick Name | Thumbnail | Product Name | Price |
| --- | --- | --- | --- |
| Editor's Choice | | Carbon Express PileDriver | Check Price |
| Great for Field Practice | | BARNETT 16075 | Check Price |
| Best Built | | Carbon Express Maxima RED Carbon Arrows | Check Price |
| Great for Small Game | | Carbon Express Maxima Hunter Bufftuff Plus | Check Price |
| Great for Deer Hunting | | Blood Sport 8110003 20-inch Crossbow Bolts | Check Price |
| 6th | | M.A.K 20" Crossbow Bolts | Check Price |
| 7th | | ANTSIR Carbon Crossbow Bolts | Check Price |
| 8th | | Black Eagle Executioner Crossbow Fletched Carbon Arrows | Check Price |
| 9th | | Tenpoint Pro Lite 20-Inch Carbon Crossbow Arrow | Check Price |
| 10th | | Victory Crossbow Bolts | Check Price |
Our Thoroughly Reviewed Crossbow Bolts
1

Carbon Express PileDriver (Editor's Choice)
The Carbon Express PileDriver is your top choice if you want superior construction, stability, and kinetic energy. It's made from high-quality carbon composite, which is known for its durability and reliability. Unlike most bolts for sale, this is created for repeated use, so they don't break or damage upon impact.
The PileDriver weighs 442 grains which is quite heavy, making it the ideal option for use with a high-power crossbow and when shooting down a big game. Its straightness measures around +/- 0.004 inches which combines with the 4-inch vane fletchings for consistency in flight and better accuracy.
It comes with both moon and flat nocks, so you can swap them if you're concerned about issues with slipping and alignment.
This product costs a little under $40, which is a reasonable bargain considering its many premium features. However, few archers complained that it was difficult to find the bolt in the woods because of the green colors that blended with the vegetation. Besides, the lack of field points as advertised was a turn off to many.
Pros
Has both flat and moon nocks
Hugely heavy
Ideal for large animals
Superb stiffness and spine
Durable and reusable
Cons
Difficult to find in the woods
Field tips not included
Our Verdict
If you are looking for heavy-duty bolts that are able to generate bone-crushing kinetic force with superior knock-down capacity, Carbon Express has your back. These bolts are the heaviest in this series, making them our favorite for targeting larger prey. They're dependable, affordable, and reusable, so you'll always get the best results from your shots. They trounce other types and models of crossbow bolts by a huge margin.
2

BARNETT 16075 (Great for Field Practice)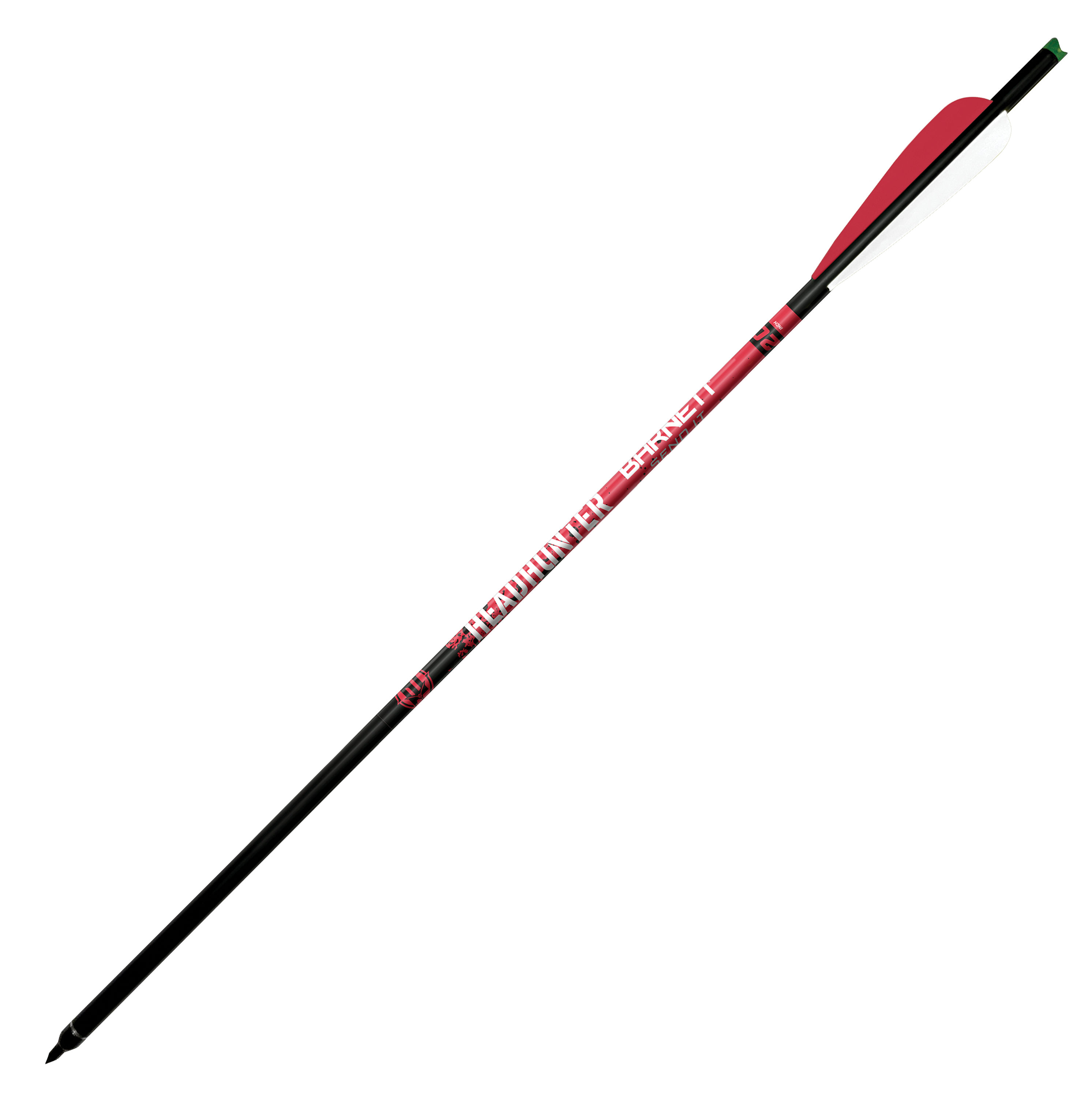 Designed for outstanding performance, the BARNETT 16075 will deliver the right speed and accuracy for your target shooting sessions. They have a standard length of 20 inches so that you can use them on many bows and crossbows.
Each pack weighs about 400 grains including the 100-grain inserts, so they're a little lighter than our first choice. The inserts provide the perfect balance against wind action, allowing the bolts to travel at consistently high-speeds.
The product comes with moon nocks which are glued to the shaft such that you can easily remove them by breaking the glue.
However, due to being the lightest model on our list, there's the possibility that you might miss the target when shooting from a long distance. Also, it's only suitable for target practice and hunting small animals.
Currently, you can get it between $25 to $85 depending on the pack you're picking.
Pros
Suitable for diverse crossbows
Replaceable tip
Fast and consistent speed
Best for practice
Cons
Not ideal for larger targets
Our Verdict
This crossbow bolt is perfect for simple practice shootings. It can run at high-speed without experiencing a wind drag, thanks to the 100 grains inserts. It's available in packs of 1, 2, and 4, which makes it extremely affordable for all categories of users. Barnett also sells headhunter bolts 22 at a great price point but 16075 appears to supersede the former.
3

Carbon Express Maxima RED Carbon Arrows (Best Built)
The Maxima is another product from the Carbon Express series which has become the favorite of most Pro hunters. The shaft makeup is unique, always resulting in an outstanding performance, so it's worth the investment.
It's production technology involves the combination of various carbon materials for maximum strength, durability, and accuracy. The spine's quality is exceptional, such that you'll enjoy better consistency of broadheads' flight.
Carbon Express ensures that the straightness is within the acceptable standard of 1/10,000 of an inch. So, therefore, this Maxima model boasts an accuracy of +/- 0.0025 inch, which is more consistent than our top pick. It arrives at a length of 32 inches with loose inserts so that you can cut it to your desired length.
This one is available in sizes of 250 and 350 grains for you to select depending on your shooting style. Also, other sections of the shaft are painted in red to prevent its loss in the woods.
Apart from the complaint that it didn't come with field tips, we didn't have any negative experience with this arrow.
It costs around $60 to $130 depending on the size – not as cheap as you think but the results will make you want to buy again.
Pros
Excellent straightness
High-quality construction
Great consistency
Available in different sizes
Arrives uncut
Cons
Our Verdict
This product is a well-made arrow that is inarguably consistent with the industry standards. It groups well just like the Wolverine series, and being available in many sizes makes it an ideal choice for both target shooting and hunting.
4

Carbon Express Maxima Hunter Bufftuff Plus (Great for Small Game)
By now, you must have realized that the Carbon Express means business when it comes to the production of top-notch arrows. It features dual spine technology for effective energy management, speed consistency, and accuracy.
Like our No 3 choice, this BuffTuff version has a straightness of +/- 0.0025 which is a guarantee of the company's commitment to quality. Also, with the unique Mossy Oak Treestand covering on the shaft and high-speed travel, the prey will hardly notice it coming.
The BuffTuff comes in the 20-inch and 22-inch sizes, so you'll not need many adjustments before taking it to the field.
However, we noticed that many were uncomfortable with the 4-inch vanes instead of the advertised 3-inch vanes, but it wasn't an issue for us since you'll master it over time.
It comes in at a little under $70. It's still affordable as it comes with a variety of great features making it a worthy investment even for the beginner archer. Though not as trendy as our previous models, it is one of the top rated choices out there.
Pros
Dual spine weight
Faster bolt recovery
Excellent speed retention
Unparalleled accuracy
Treestand Camo
Cons
Didn't come with the 3-inch vanes as advertised.
Our Verdict
This product offers unbeatable straightness, speed, and consistency. This 20-inch ammunition is just what you need for small game hunting.
5

Blood Sport 8110003 20-inch Crossbow Bolts (Great for Deer Hunting)
This Blood Sport bolt has earned the trust of many hunters since it works pretty well on both high-speed and the traditional 150 lbs crossbows. Besides, if you opt for broadheads or field tips, you can customize the weight to suit your bow.
The Blood Sport 20-inch bolt doesn't have field points but comes with both brass inserts and half-moon nocks like most models on this list.
It's sturdy, having straightness of +/- 0.003, so it works well with 350 fps. Each of the bolts features the 4-inch vanes, which are quite durable and capable of maintaining strict flight consistency.
About the price, it retails around $30, and it's one of the cheapest crossbow bolts on the market, though this one didn't come with the blood sports ring like other models from the company.
Pros
Great value for the money
Sustainable force
High-grade carbon
Deep penetration
Cons
Our Verdict
These are simply the top choice for deer hunting. The bolts easily balance on both high-speed and standard crossbows. Besides, the ability to maximize speed and penetration make them our perfect option for deer hunting.
6

M.A.K 20" Crossbow Bolts
If your focus is on both hunting and target practice, the MAK 20" will meet all your needs. Each of the bolts come with a durable carbon fiber shaft, 125-grain inserts, and half-moon nocks. You can replace the field points with broadheads by screwing them to the inserts, so they're suitable for large and small games.
The bolts are lightweight and fly straight, hitting the target at the intended spot. They come with 4" waterproof TPU rubber vanes which keep the flight balanced and consistent irrespective of the weather condition.
Unlike most models on this list, the M.A.K 20″ series contains 12 pieces per pack, so you'll always have enough arrows to work with per session.
However, the bolts weren't as durable as most of our top picks, but this wasn't a deal-breaker for us considering its price.
It currently retails at around $30, so it's pretty cheap when compared to most top products on this list.
Pros
Affordable
Replaceable tips
Suitable for hunting and target shooting
Waterproof vanes
Cons
Little issues with durability
Our Verdict
These are excellent hunting and target practice bolts for pro and amateur shooters. The option to replace the tips allows you to take down both large and small prey per your desire. Though they weren't very durable, you won't expect everything to be perfect considering the price.
7

ANTSIR Carbon Crossbow Bolts
ANTSIR Carbon crossbow bolts feature high-grade carbon shafts that retain its characteristics even under repeated use. Each arrow has a length of 20 inches and weighs around 28 g, which combines with the 125-grain inserts to provide maximum shot accuracy and penetration.
The outer diameter is 8.8mm, while the inner diameter measures at 7.6mm. Like the HEA-620.3 model, this ANTSIR package has 12 arrows. The four-inch vanes have two blue and a single white color to help you distinguish them from other objects in the woods.
The ANTSIR boasts of a superior level of accuracy which allows you to shoot at the target from a relatively long distance. It also means that you'll hunt in areas with plenty of wild prey with confidence.
However, you should avoid hitting concrete walls or hard objects to prevent damages to the bolts.
Its only negative was that we lost most of the inserts when taking the shots, but this wasn't a turn-off for us since you can glue it back to fix.
This model costs around $30, so it's also a cheap option when compared with most high-end bolts on the market.
Pros
Great accuracy and penetration
High-grade carbon shafts
Excellent precision
Blue and white vanes
Cons
Our Verdict
These bolts are so accurate and you will see that for yourself if you have some archery skill. The vanes are easy to straighten out with a little application of heat. The price is attractive, so you won't have to break the bank to enjoy these excellent features.
8

Black Eagle Executioner Crossbow Fletched Carbon Arrows
Black Eagle designed this Executioner model for archers who crave for high accuracy and higher speed. These sturdy yet slim fletched arrows flaunt some of the advanced features that you'd need for greater performance.
The carefully inserted brass inside the arrow adds to the total weight which is perfect for attaining higher accuracy without losing an iota of kinetic energy at the time of shooting. Trust me, when you put this bad boy in a crossbow it will turn deadly in no time.
Our field testing confirmed one vital point about these Executioners crossbow arrow models, that is– you must have this model for your crossbow to get the best results. We found that the arrow units came with an astounding ±.010 spine deviation rate of straightness. That's a pretty good number you could say.
All Fletched Arrows including 22″ and 20″ feature X Vanes and 3″ Bohning. On the other hand, 18″ feature Blazer Vanes with a length of 2″.
Another crucial feature is that the nocks of these arrows have been pressed fit, whereas, most other manufacturers glue them. Remember, glued nocks are not as hard as the pressed ones.
For 18″ arrow you'll get 92 grains of executioner brass inserted while for 20″ the amount is 110 grains. This means the quality has not been compromised in any of the units.
Pros
Capacity for converting total kinetic energy to speed
20-inch and 22-inch shafts come with three inches' vanes designed by Bohning X
Shafts come with executioner brass inserts
Both flat and half-moon nocks come with the package
Nocks are pressed fit
Cons
Sometimes fletches require re-alignment
Our Verdict
We must say that the Black Eagle did a good job in designing these arrows at an affordable price range. Although some users complained about build quality, we found them well-built and accurate enough to get the job done. We believe you'll get the confidence you need when shooting with these. Our only recommendation would be – re-align the fletch when needed for a better result.
9

Tenpoint Pro Lite 20-Inch Carbon Crossbow Arrow
Tenpoint Pro Lite carbon crossbow bolts are designed with your success in mind, and that's seen is its ability to hold 3 inch groups, 11.9% speed loss, and 25.2% loss of Kinetic Energy over 50 yards.
Fitted with a 25grain aluminum insert, it delivers a balance at 10% front of center (FOC). The straightness of the shaft stands at +/- 0.003 with a weight tolerance of two grains per dozen. It means you can expect a greater level of accuracy, which is consistent with each bolt.
We also like the patented green (light) SUPERBRITE OMNI-NOCK nocks with six grooves with three bowstring channels that eliminate most of the challenges you'll likely face when using other nock types.
This model has a standard weight of 370 grains, and that includes 100-grain practice tip. So, you can expect better flight stability and deeper penetration like with the PileDriver bolts. However, we noticed that changing the nocks is difficult, especially for those without the right tools in their arsenal.
Pros
Durable
A greater level of precision
Heavy and fast
High rating
Cons
Removing nocks was challenging
Our Verdict
This is designed to eliminate most of the issues you'll face when using bolts with flat nocks. Heavy, fast, and accurate, it'll meet your expectations of the best crossbow bolts.
Other TenPoint (often misspelled as 10 Point) models you might also be interested in: Wicked Ridge Invader X4, Wicked Ridge RDX 400, Pro Elite 400 Carbon.
10

Victory Crossbow Bolts
With 100% carbon shaft, the Victory crossbow bolt is perfect for both pro and enthusiasts alike. Like the Omni Brite series, this one features a lighted nock which allows you to monitor the path of flight and easily spot the kill.
The lights work well and switch off pretty quickly. However, the batteries aren't replaceable; instead, you'll change the lighted nocks. Besides, the design of the light button will prevent you from using it with your Barnett Quad 400 crossbow, so, you may need a second thought before buying.
You can easily opt for 20 or 22-inch sizes since they both cost around $70. They're lightweight with a total weight of 320 grain for 20 inches and 327 grain for 22-inch versions.
We observed that these illuminated bolts' accuracy was pretty fantastic, thanks to brass inserts which provided the balance against wind action.
Pros
Red lighted nocks
Brass inserts
Fantastic accuracy and penetration
Available in 20/22 inch lengths
Easy to turn off
Cons
Batteries not replaceable
Our Verdict
Right bolts, with helix-shaped vanes that propels it beautifully in the air when you fire. The bright red light nocks allow you to spot where your arrow falls even under dim light. So, if you're looking for bolts with illumination at an affordable rate, this is the right choice for you.
Best Crossbow Bolts – Comprehensive Buying Guide

1. Material
The primary makeup of cross bow bolts is aluminum, fiberglass, and carbon.
Aluminum bolts – They are the cheapest but easily bends upon hitting animals with tough skins. So, they're less durable and can only create deep cuts on soft targets. However, aluminum bolts are perfect for practicing because of their affordability.
Carbon bolts – These are expensive, durable, and offer deeper penetration. Since they don't easily break or bend, most archers use them for shooting at dense objects.
Fiberglass bolts – They have the advantage of flexibility and durability over other materials. However, when the bent is much, they shatter into pieces such that could injure the user.
Combinations – Most companies create faster and durable bolts by combining aluminum and carbon.
The ancient crossbow bolts were made of wood though.
2. Length & Diameter
Since a bolt length varies between 15 to 22 inches, there's always the perfect fit for your crossbow. Ensure that you check with the manufacturer to avoid buying one that is longer or shorter than your bow. Of course, any deviation from the right specification will hamper your success.
The diameter of the bolt affects the depth of penetration. Mini bolts are more durable and experience less wind drag, boosting its power and speed.
3. Kinetic Energy
Most archers place more focus on speed when choosing their arrows; however, you'll need a heavy bolt with adequate kinetic energy to shoot down large prey. Tuning of the bow can add to this. The source of the kinetic energy comes from the string that stores the energy when cocking and loading the crossbow.
4. Weight
Crossbow weight is in grains per inch (GPI). Since the bow delivers the same power at the point of release, this means that lighter bolts travel faster, but heavier ones possess more power that results in deeper penetration.
Bolts are available in standard-weight, lightweight, and heavyweight categories; so it's ideal to understand which works for you.
Standard weight – Weighing around 350 to 400 and 425 grains, they provide the perfect balance between speed and kinetic energy. Most crossbow companies prefer standard-weights since they work on almost all bows. Besides, the little increase in weight causes more energy transfer from the string to the bolt, resulting in better shot accuracy and object penetration.
Lightweight – Quarrels that weigh less than 350 grains are classified as lightweight. They have the highest speed, making it an excellent choice for competition shootings. However, lightweight bolts are more susceptible to wind and weather, so they're not the most accurate. Also, they generate extra noise and vibration, which could scare the prey away.
Heavyweight – These types weigh over 400 grains and have the highest kinetic energy, so they'll cause considerable damage to the skin. Heavyweight bolts are stable during flight and are less affected by wind. However, they have the least speed and would drop when shooting from a long distance. They're the ideal option for engaging bigger games like elk and bear.  
5. Fletchings
These are the tiny hairs at the back of the shaft that helps to maintain its stability in flight.
6. Nocks
These parts enable you to connect the bolt to the string of the crossbow before firing and also help in maximizing energy transfer. They're made of plastic or aluminum and fall under flat, half-moon, half-moon hybrid, and lighted types.
Flat nocks – They're straight and easy to use, allowing you to align the arrows to your most ideal point. However, you should be smart to prevent the bolt from slipping from the string when you're about to discharge it.
Half-moon nocks – This design allows you to attach the bolt to the string securely to prevent it from slipping before shooting.
Half-moon hybrid nocks – They have many grooves such that you can choose your best position.
Lighted – This is the latest bolt design and has become popular among pro and amateur hunters. It lights up the flight path, allowing you to monitor the movement and quickly locate the point of the hit.
7. Head
Ideally, the two crossbow heads include target points and broadheads.
Target points – They don't create deep cuts because of their seemingly blunt edges. So, you'll only use them for smaller games or practice shooting. Crossbow bolt target points weigh around 125 to 150 grain. You can also find 380-grain ones. So before replacing, ensure that the new has the same weight as the original to prevent injuries or possible damages to the bow.
Broadheads – They have sharp edges, resulting in a quicker and easier kill. You can opt for expandable, fixed, or removable blade broadheads.
8. Shaft
Another name for the main body of the bolt is the shaft since it accommodates the other components. They're mostly of carbon or aluminum.
9. Spine
The shafts' degree of stiffness is referred to as spine. Depending on the material of construction, more robust bolts are more durable and resistant to bends. There are chances that you'll miss the target if the spine is below the acceptable standard.
10. Straightness
Its straightness determines the arrow's ability to keep up with the flight path.
11. Quantity of Bolts
Most models come in packs of 6 to 12. Avoid shooting many arrows at a single target to prevent their damage.
12. Manufacturer's Warranty
Since most arrows are designed for one-time use, they hardly come with a warranty. Instead, opt for reputable brands and read authentic crossbow bolts reviews made by genuine customer reviews to have a clue about the overall quality.
How Do Crossbow Bolts Differ from Arrows?
Both crossbows and arrows are both medieval weapons with renewed design and precision enhancement. We've traced these weapons as far back to Roman times. They both use a similar shooting mechanism. You won't find much difference between bolts and arrows with a quick look. But you need to get familiar with their characteristics to make an informed buying decision.
Fact is, crossbows use bolts while compound bows shoot arrows. Also, bolts are generally shorter in length, around 16 to 22 inches while arrows range from 31 to 35 inches.
Finally, arrows have stabilizing vanes at the back, which affects their overall performance per speed, weight, and trajectory when compared to the best bolts for crossbows.
FAQs
Q. 1: Does crossbow length matter?
Ans. Bolts length range from 16 to 22 inches, but the most popular are the 20-inch types. Most archers can use longer bolts, but using one that's shorter than necessary could prevent the smooth exit of the tips putting you at risk.
Q. 2: Do crossbow bolts have fletchings?
Ans. Yes, fletchings make bolts stable to maintain speed during flight.
Q. 3: Can I reuse crossbow bolts?
Ans. As long as the bolt is not damaged upon impact, you can reuse it. Find the best rated choices out there to make sure you can reuse.
Q. 4: How to weigh a crossbow bolt?
Ans. First multiply the bolt's length by the grains. For example, 20-inch x 15 grains/inch = 300 grains. Then add weights of the fletchings, nock, and inserts.
Q. 5: How much does a crossbow drop?
Ans. Bolts trajectory stands at 350 ft/s, 36 yards. However, the arrow type, crossbow speed, and sighting could affect the range of drop.
Q. 6: Do crossbow bolts have nocks?
Ans. Yes. Plastic nocks are cheap but may shatter when used with powerful bows while Aluminum is expensive and can withstand high-speed crossbows.
Q. 7: How many bolts should I buy?
Ans. You can buy as many as you can afford or you can make your own bolts. However, choose at most a dozen, six for hunting and the other half for target practice and keep them in a good crossbow bolt case and carry with you on a quiver or bolt holder.
Q. 8: How to determine which bolt will fit my crossbow?
Ans. All bows and bolts have specifications, check the information on the pack to know the right one to use.
Q. 9: What size bolts do I need for my crossbow?
Ans: Most bolts fall in between 22" to 16" when it comes to length. Most bolts that you commonly find on the market are 20 inches. You should maintain the recommended length. You can try a longer one, but if you go for any size shorter than the recommended, you might end up having an accident when firing the bolt.
Q. 10: Does crossbow shoot bolts?
Ans: Arrows are any bolt that is longer than 16 inches in length. That is a common length for a crossbow in today's market. That's why modern crossbows don't have problems shooting arrows. But, crossbows are also designed to shoot smaller arrows, aka bolts.
Q. 11: Which is better – aluminum or carbon crossbow bolts?
Ans: Both aluminum and carbon bolts have their pros and cons. Aluminum bolts are heavier than carbon fiber but they are less expensive. Carbon bolts are lighter yet stronger and more prone to bending. Aluminum bolts don't bend as much. Some shooters prefer carbon bolts over the aluminum ones, while some prefer aluminum for being less pricey.